Displaying items by tag: Kaband
Thursday, 17 September 2020 14:29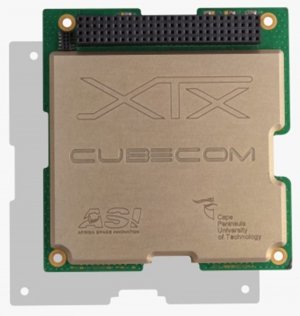 Our software-defined radios are highly adaptable communication solutions that have a 100% success rate on orbit. We offer systems ranging from VHF to X-band, Ku-Band and Ka-Band. Combined with our platform range, our transmitter and transceivers enable performance without compromise.
TT&C and data downlink solutions
A range of high-performance PULSAR antennas available
Supports both amateur and commercial bands
Compatible with all AAC Clyde Space structures
PULSAR-DATA compact transmitter solutions are designed for advanced missions where a high data rate downlink is required.
PULSAR-STX
The low power consumption PULSAR-STX solution operates at amateur and commercial bands respectively and is user programmable within bands. The transmitter implements QPSK modulation with transmission data rates of up to 2 Mbps. It utilises an open network encoding scheme based on the IntelSAT IESS-308 specification which allows this product to be used with low-cost commercial satellite receivers.
PULSAR-XTX
The PULSAR-XTX is an extremely compact X-Band transmitter designed for CubeSat missions. The transmitter implements OQPSK and QPSK modulation with transmission data rates of up to 50 Mbps. It implements a CCSDS specification which allows this product to be compatible with commercial off-the-shelf satellite demodulators.
These solutions are supplied with user manuals, flight boards and STEP files for seamless system integration
Monday, 24 June 2013 15:51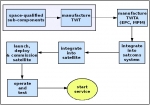 I published an article on the market need for High-Frequency, Space-Qualified, TWTs, those operating in Q/V-band.
You can download it from here:

http://www.black-kite.co.uk/downloads.php
http://www.black-kite.co.uk/downloads/SM_Mar2012.pdf
Synopsis

This article provides an overview of the history of Ka-band satellite development, focusing on the satellite requirements for Ka-band TWTs. Presented is a forecast of the number of Ka-band TWTs that may be required over the next decade. Satellite companies need to consider higher frequency TWTs, at Q- and V-bands, to maintain pace with communications requirements. Market drivers for this are being seen from governments, business and consumers. Satellite operators, space agencies and others are showing increased interest in higher frequency TWTs. From this data, an outline assessment of the potential size of a Q/V-band TWT market is offered.
Satellite communications use various frequency bands, ranging from L-band (approximately 1 GHz to 2 GHz) to Ka-band (approximately 26 to 40 GHz). Travelling wave tubes (TWTs) are specialized and essential components for SATCOMs and are required in both the space and ground segments to create an end-to-end communications chain. The TWT market is dominated by two world players, L-3 Communications in the U.S. and Thales Electron Devices in Europe, who together hold nearly 90 percent of market share, mainly in the lucrative Ku-and Ka-bands. Growing pressures for faster and higher quality communication services are driving the need to find more bandwidth to serve the increasingly hungry data and broadcast applications (e.g., interactive gaming, HDTV). To satisfy this insatiable demand, higher frequencies are being considered, which necessitates the development of TWTs operating at higher frequencies, namely Q & V bands.